A Faith Like Abrahams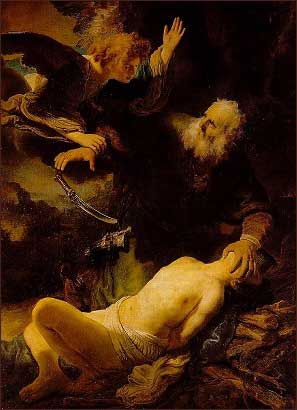 November 19th, 2011

The following is a compilation of my notes and everything I remember saying the first time I preached in front of a congregation. I was blessed to have the opportunity and privilege of sharing from the Word on a Shabbat morning at my Shul when our Elder/Overseeer was off at a theological conference. It was an important responsibility that HaShem gave me and I am thankful that He has refined me enough to the point where I could be entrusted with such a task. This was just after I had been appointed in November 2011 as a Shamasha (Deacon/Ministry Servant) and I therefore humbly present the following to you (note: some names have been edited out for the sake of privacy).



* * *



You know, sometimes in this movement, and in Christianity in general, but especially in the Torah Observant movement, we can be a little hard on ourselves. Paul, in his letter to the Romans, makes the comment that by the Torah sin is known, and as such, it becomes exceedingly sinful… in other words, he is very aware of what is right and what is wrong. And so we who spend time studying Torah, we can become very educated about the areas of life that we fall short in. And there are times where we can fall into that trap of focusing on what we're doing wrong and how we're stumbling in our walk. Paul, in the 7th chapter of Romans goes on about this when he says "The thing I want to do, I don't, and that which I don't want to do, that is what I do" and he calls himself a wretched man, a miserable soul. Yet elsewhere Paul makes the seemingly grave statement that he is doing more good works than everyone else!! But… he qualifies that statement by saying that it is not he who is doing those works, but the grace of G-d working through him that is doing those works. And so here I am today, standing up here, not because of anything that I myself have done, but rather, because of what HaShem has done and how he's able to work through me. And this is something that has become so glaringly apparent to me in the last months. Truly, it is only by His grace that I can even lift a single finger.

Now, when I was thinking about preaching here, I got the idea that, since it's my first time, it would be a good idea to share some personal stories with you so that, for those of you who don't know me that well, you would have a better idea of just who Rav ______ has entrusted to minister from the word. But as I was thinking about what to say, it became apparent that these stories weren't actually about me; they were about what HaShem has done to me and how he was worked through my life and brought me to where I am today. And so once again, we see that it's all about Him. It's all about what he can do through us, DESPITE our sinful tendencies that cause us to stumble. And part of what I'm going to talk about today is how this sort of all works together in the life of a Believer.

So, this week in our Torah portion we read the awesome story about Isaac and Rebekah who seem to fall madly in love with each other at first sight. In the 24th chapter of Genesis I like to imagine it as if when Isaac was out in the field that evening meditating, that when he and Rebekah saw one another they ran through the field, in slow motion of course, and as the sun was setting they embraced each other in such a way that you would think they had been in love for years on end. I'm a hopeless romantic for those of you don't know. But it's interesting because, this blessed scene, as great as it is, would not have been possible if it were not for the faith of Isaac's father, Abraham. In fact, the entire blessing that the majority of people ride on today all stems from Abraham's faithfulness. One man who had a faith that is so powerful that I think we need to take a closer look at it. In dealing with Isaac specifically, we read just a couple chapters earlier of a very powerful sequence of events. Let's just go to Genesis chapter 22 for a moment.

Now it came about after these things, that G-d tested Abraham, and said to him, "Abraham!" And he said, "Here I am." He said, "Take now your son, your only son, whom you love, Isaac, and go to the land of Moriah, and offer him there as a burnt offering on one of the mountains of which I will tell you." So Abraham rose early in the morning and saddled his donkey, and took two of his young men with him and Isaac his son; and he split wood for the burnt offering, and arose and went to the place of which G-d had told him. On the third day Abraham raised his eyes and saw the place from a distance. Abraham said to his young men, "Stay here with the donkey, and I and the lad will go over there; and we will worship and return to you." Abraham took the wood of the burnt offering and laid it on Isaac his son, and he took in his hand the fire and the knife. So the two of them walked on together. Isaac spoke to Abraham his father and said, "My father!" And he said, "Here I am, my son." And he said, "Behold, the fire and the wood, but where is the lamb for the burnt offering?" Abraham said, "G-d will provide for Himself the lamb for the burnt offering, my son." So the two of them walked on together.
Then they came to the place of which G-d had told him; and Abraham built the altar there and arranged the wood, and bound his son Isaac and laid him on the altar, on top of the wood. Abraham stretched out his hand and took the knife to slay his son. But the angel of the L-RD called to him from heaven and said, "Abraham, Abraham!" And he said, "Here I am." He said, "Do not stretch out your hand against the lad, and do nothing to him; for now I know that you fear G-d, since you have not withheld your son, your only son, from Me." (Genesis 22:1-12, NASB)
This is one of the most profound events recorded in Scripture. In verse 1 it says that HaShem was testing Abraham. This is a test that I think is a little beyond what most of us can comprehend, but it demonstrates the fact that sometimes HaShem will throw curve balls at us that we don't necessarily understand at the time. And yet, they are very important for us if we are to grow and walk in the fullness of what HaShem has called us to. These tests can come in a variety of different ways, and one of my favorite passages within Torah explicitly warns the children of Israel that these sorts of things were going to come their way. Let's just go to Deuteronomy 13 for a moment and see what Moses told the children of Israel,

He says there that,

If a prophet or a dreamer of dreams arises among you and gives you a sign or a wonder, and the sign or the wonder comes true, concerning which he spoke to you, saying, 'Let us go after other gods (whom you have not known) and let us serve them,' you shall not listen to the words of that prophet or that dreamer of dreams; for the L-RD your G-d is testing you to find out if you love the L-RD your G-d with all your heart and with all your soul. (Deuteronomy 13:1-3 NASB)
Now within the Scripture we often read phrases such as "let us go off and serve other gods" and we typically get a picture of joining a different religion, or setting up little idols in our houses or something like that. But do you know what the term G-d really means? In the Hebrew it is Elohim, and the stereotype of this word is that it implies some sort of divinity, but this isn't necessarily the case. Judges within Israel are called elohim. Angels are sometimes called elohim. Moses himself is actually called elohim in one or two places. And the connotation that comes with this word is the imagery of something ruling over you; something that has a special kind of authority within your life. Idolatry in its truest sense is anything which draws us away from our Creator, and when we think about it, there are many things within our lives that have the potential to rule over us. Or, become another god... and as such, draw our attention away from our Heavenly Father. This could be as simple as something such as the kind of music that you listen to, as music can be very powerful and influential, becoming a whole culture unto itself. Or it could be something a little more severe, such as an addiction to alcohol or some other stimulant. But yet right from the get go the children of Israel are warned that when these things come your way to not even listen to it! Just stay away! And instead, as verse 4 says, we should,

"follow the L-RD your G-d and fear Him; and you shall keep His commandments, listen to His voice, serve Him, and cling to Him."
Isn't that awesome? That is an awesome place to be because when we cling to Him, serve Him and listen to His voice, just as Abraham did, then things are guaranteed to go well with us. But.... that's sometimes easier said than done, right? And wouldn't it be easier if these trials and temptations didn't even come our way? We have to stop and think for a moment, why do these trials have to come upon us? James, Ya'akov, the brother of our Master, says it best in the 1st chapter of His epistle when he tells us to...

"Consider it pure joy my brothers whenever trials come upon you, because you know that the testing of your faith develops perseverance. And perseverance must finish its work so that you may be mature and complete, not lacking anything."
That is one of most powerful statements within all of Scripture to me, and I'd like to take a moment with you to share why.

Most of you know that... I love Scripture. But it wasn't always like this. I grew up as a Lutheran and sort of had faith as a child, but when I became a teenager I completely back slided. And when my Damascus road experience came when I was about 18 and I began to return to G-d, it would be another two years before I ever cracked open a Bible. The first of those two years was a very big struggle because, the devil didn't want to let me get away. But after enduring through that, the second one of those years was absolutely amazing and full of blessing. The Holy Spirit brought me completely out of my back sliding years, and I became the joyful, over excited person that I am today. But if you can believe it, it was actually worse back then! I was so happy and so full of love that you couldn't get within 5 feet of me without me jumping on you and giving you a big hug! And everybody knew this too. We threw a surprise party for one of my friends one time, and after we surprised him we were all just standing around for a moment until he says "well isn't somebody going to give me a hug?" and as soon as he said that he realized I was standing right by him and he had one of those looks on his face like "oh no, what did I do". And, not to disappoint, I practically ran him over with a hug. But anyway, it was amazing what simply turning back to HaShem in the simplest sense did for me, and yet, I had still not cracked open a Bible. I don't know if I figured that I knew the basics and that was good enough for me or what it was, but I had no concept of what it was like to truly listen to HaShem's voice, serve Him, and cling to Him. But boy was I ever still happy, and here's where the story gets interesting. I had no idea what I was about to say, but I was so full of joy and I felt like my life was really on track again so I prayed to our Heavenly Father and I said "Father... thank you so much, I am so happy Father for everything that you have given me and just how perfect everything seems to be going. Whatever you have in store for me, I'm ready. Whatever is next Father, bring it on, give me all You got because I feel like I can handle anything now!!"

As I said, I had absolutely no clue what I was asking for, but I essentially just sentenced myself to the refiners fire. Now I don't remember the exact sequence of events, but I remember very clearly telling myself and others that it was as if a train came out of no where and smacked me right upside the head. Literally it seemed like my world got turned upside down. Everything that I had been so happy about seemed to come crashing down, and the worst part was that I had no idea how to handle it. You see, I grew up as an athlete. Not just any athlete, but I competed at a very high level, I was in extremely good shape and very, very confident. And that confidence helped me to deal with pretty much anything that came my way, but now, here I was, seemingly for the first time in my life at a complete loss for what to do. I was facing trials that I had never experienced before, and it was to the point that it seemed like there was only one thing left to do...

And so I looked over at that Bible sitting over there and said to myself "maybe I should start reading you". So I grab this big study bible that I had used for my confirmation class, but I had no idea where to even begin. I figured though that, okay, if G-d is real, and this is truly His word, than in my time of trial I should be able to just flip it open and it will give me SOMETHING to help with all these trials I'm facing, right? So I flip it open, I point to a random passage, and I read what it says. Guess which passage I end up pointing to? James, chapter 1, verse 2, which says "consider it pure joy my brothers whenever you face trials of many kinds, because you know that the testing of your faith develops perseverance, and perseverance must finish it's work so that you may be mature and complete, not lacking anything."

Out of allll the passages in Scripture... I will never forget that moment because it was then that I realized that this was not a normal book! But beyond that, that was when I learned very clearly that the only way for us to grow in our relationship with HaShem is through trials, temptations and testing. This is very similar to a marriage where the only way you can progress your relationship with one another is to work through the struggles and issues of life together. And if we search the Scriptures we can find that The Holy One, blessed be He, gives us this very invitation in regards to our sinful state of being when He says in the 1st chapter of Isaiah in verse 18 - "Come now and let us reason together. Though your sins be as scarlet they shall be as white as snow, though they are red like crimson, they will be like wool".

Do you know why I'm Torah Observant? It's not because I get to dress up in a tallit and wear tzitzit. Rather, it's because when I went to go reason with HaShem about what was happening in my life at that time, I ending up learning something very significant. I realized, or, HaShem taught me, that every trial I was facing could have been avoided if everyone had merely followed the Ten Commandments. And it was at that moment that I realized that His commandments were all about helping us. They were that perfect, gold standard of morality and truth and righteousness. As Paul says in his letter to the Romans, the commandment is holy, and righteous and good. It wasn't until later that I realized that the entire Torah was an amplification of those 10 commandments, and that the Shabbat, the Feast Days and everything else were tools to help keep one accountable to this standard of righteousness and on that narrow path that leads to life; but nonetheless, I was beginning to understand how and why we are supposed to keep His commandments, listen to His voice, serve Him and cling to Him as Deuteronomy 13 says. It took the refiners fire for me to learn that, but boy was it ever worth it because no matter where I go now in life, I have a confidence that the HaShem is with me, and He will provide.

The only way though.... the only way to make it through these struggles and overcome the trials that we experience is, just like in a marriage, it has to be rooted in the fact that we love Him. It all comes back to love. As Deuteronomy 13 says, when these things come our way, the L-RD our G-d is testing us to find out if we love the L-RD our G-d with all our heart and with all our soul. But love isn't so easy. Sometimes when we who are Torah Observant try and explain our walk to our Christian brothers and sisters who have not yet embraced the fullness of Torah, they often quote Yeshua's words in a very mild manner saying "well all you gotta do is love the L-rd and love your neighbour". As if it was just that easy, right? But it's not! Love is not just a fuzzy feeling inside, but it is something that is manifested in action, and sometimes, other people aren't necessarily going to understand those actions. I know my family has kind of raised a few eye brows at some of things I've done, but did you ever wonder why our Master said that you cannot be His disciple unless you hate your father or your mother or your brother in Luke 14:26-27. It is because we must love G-d more than anyone or anything else, so much so, that in comparison it seems as if we hate our own family. But we don't actually hate our own family, heaven forbid! Rather, it's all about putting our Heavenly Father first, who then takes care of all the details. I believe the Jewish sages understood this intense concept of love, for the Rambam (Maimonides, Mishnah Torah, "Laws of Repentance", 10,3) writes:

"What is the proper love that we must have for G-d? It is to love G-d with an exceedingly great and intensely powerful love until the individual is constantly enraptured by it; he must be stricken like a lovesick person, whose mind is at no time free from his passion for a particular woman, ...with the thought of her filling his heart at all times, whether he be sitting down or rising up, whether he be eating or drinking. Even more intense should the love of G-d be in the hearts of those who love Him, and this love should constantly absorb him, as we are commanded to love the L-RD "with all your heart and with all your soul." Solomon expressed this allegorically in the verse, "for I am sick with love." (Song of Songs, 2:5) Indeed, the entire Song of Songs is an allegorical description of this love".
Now in our initial passage this morning, we see that Abraham had a love for the L-RD that was so strong that he was ready to do anything and everything in order to serve Him, even if it meant sacrificing his own son. He didn't hate his own son, He just had a love for G-d that exceeded most so called rationale people's understanding. But talk about faith! Abraham's faith was so strong that He knew that no matter what HaShem asked of him it would all turn out in the end, that, even if Isaac had died, that the L-RD had the power to resurrect him and show His sovereignty over every living thing.

Now we need to stop for a moment and ask ourselves if we have that same faith and love for our L-RD and we need to ask if we would be able to act in the same way as Abraham when it comes to things that HaShem requests in our lives, no matter how simple or how difficult. Do we love him enough that we would be willing to change the kind of music we listen to? Because there's a lot of music out there that glorifies things that HaShem says He finds abominable, and we might not necessarily understand why at that moment, but if we continue to allow yourself to be sanctified, we'll get it eventually. Because it's the same thing with movies. The Scripture is all about life that is eternal and yet we watch death for entertainment all the time. And most of those things will be blasphemy as well, so here's a question: do we love Him enough to stop watching movies that pervert His name? Because that's a big one if you stop and think about it! And you know, I've always been a big movie fan. Never really watched a lot of TV, but I always loved movies. It's interesting though because, as I started to get a lot busier in my life, I began watching movies less and less. Not only was I busy with life, but I was busy with the things that HaShem had called me to, and so my free time had me really immersed in a lot of spiritual things. It was at least 6 months to a year before I actually got the chance to sit back down and watch a movie, but when I did, I was shocked. Something in me had changed. I was so caught up in the ways of Torah from that busy time that I began to look at movies a lot differently. Things I once really enjoyed I was now looking at with distaste... and to me this was very remarkable. I realized though that it was HaShem's sanctification in me that I was coming up, and it suddenly clicked. When He says that He finds something abominable, if we don't get that, it's merely because our holiness is no where even close to His holiness. But the more we seek Him and allow Him to work in our lives, the more we start to see things the way He does.

But I really have to stress something here. If we are to live a life in which we allow Him to sanctify ourselves and lead us away from the sin of this world, I cannot emphasize enough that it has to be done out of a sincere, humble love for our L-rd... it should be all about serving Him, and never about, for example, boasting in our own spirituality. Because that's a leaven that will feed the carnal man and starve the spiritual man. In serving HaShem we always need to keep ourselves in check and make sure our motives are right... and one way to do this, is to humbly spend time with Him alone in prayer. So here's another question we can ask ourselves: do we love Him enough that we will take time each day to spend in prayer or worship? Because really, that's no different than actively spending time with your spouse one on one! But maybe we're not ready to do it every day, okay, no problem, how about once a week then? Life may get busy, but we should always be able to spend time with Him at least once a week as we are commanded. So, a very practical question for us who are Torah Observant is, do we love the L-rd our G-d enough that we could go to our employers and say "I'm sorry, but I cannot work between sundown on Friday and sundown on Saturday?" and when they ask why, are we confident enough to say "because this is the day that my L-rd commands me to rest and commune with Him!" And do we have enough faith that when we make such requests and statements, that He will provide for us? Because He is always faithful to provide when we follow His commandments! And following His commandments is the very way in which we can commune with Him and experience His blessing. Let me give you an example...

When I first started observing Shabbat, I was able to get Saturdays off, but I still worked Friday evenings. And my Friday evening shift was, in my line of work, something that made me a lot of money. I work in the fitness industry, and sometimes your income can be very up and down. But this was a night that I was always guaranteed a certain amount of money, and so I didn't want to give it up. But I got convicted very strongly that I had to start observing Shabbat in it's fullness, and so last summer when it came time to hand in my commitment form for the work that I do at the City, I put down that I could no longer work my Fridays. And I couldn't just pick up another shift to replace it, because those were other people's shifts, and if they didn't want to give them up, then I would be out a lot of money. So I said to HaShem "Father, I'm here to start observing your Shabbat in it's fullness, and I know that You are faithful to provide, but even if I do take a cut in pay, I don't care, because serving You is all that matters." And so, when I got my new schedule, lo and behold, I lost a lot of hours and had to take a significant cut in pay. But you see, I work for two employers. Not only do I work at the City, but I also work at the college just up the street, and guess what happened there? I ended up getting so much work that I started making substantially MORE money than I had EVER made before, and I had every night off that I wanted so I could still make it to Yeshiva and I could keep Shabbat in it's fullness.

Now the Torah makes it very clear that obedience to HaShem's commands always results in blessing. Following the commandments is not a matter of salvation; it never has been, rather, it's always been a matter of love and blessing. Something I love asking our Christian brothers and sisters who haven't properly understood Torah yet is "how were people of the 'old testament' 'saved'?" And after looking at me for a moment they say with a look on their faces "uh... animal sacrifices?" So then I point them to the book of Hebrews where it says in chapter ten verse four that it's impossible for the blood of bulls and goats to take away sins, and so if it's impossible, then that's obviously not the way in which people were brought justification. But no, we know that justification is always by grace, through faith. When the children of Israel were in bondage in Egypt, it wasn't by merit of some good work that they earned their salvation. No, rather, they called out to HaShem with humble hearts and broken spirits that they needed to be redeemed, and it was then by their faith that they placed the blood of the lamb on their doorposts. It was by faith that they took up everything and marched out into the desert. And it was by faith that they stepped into the Sea of Reeds and trusted that He would hold up the walls of water. And then, AFTER they had been redeemed, subsequent to that deliverance by their faith, THAT was when they received the commandments, the Torah, because it was at that point that HaShem said "now that I have redeemed you these are my instructions so that you can live a set apart, holy lifestyle" and why?? So that we may experience His blessing and be a light to the nations, drawing all flesh to the one true Creator!

I could preach about that all day, but, getting back to the original point, this act of obedience of mine regarding Shabbat ended up in substantial blessing. I started studying Torah on the Friday nights that I got off, and it wasn't long before _____ got Friday nights off as well... which, was no coincidence of course, and in fact, he didn't even ask for it off, someone was just hired and took his evening shift and he started working during the day. So, we started keeping Shabbat together the very next week after I got Fridays off, and we began studying Torah together. Soon after, ______ finds out about this and says "hey, why don't you come over to my place and I'll provide food and you guys can lead the Torah study!" So, praise the L-rd, we head over there and keep studying Torah. And as all this is progressing I begin going deeper and deeper into HaShem's word, which was a blessing in and of itself, because although I was convicted of Torah Observance, I had no idea how magnificent and beautiful the Torah really was. But as I kept going, it got to the point where I began to prepare little lessons on each chapter of the Torah and I started pretty much preaching or giving little sermons over at the _______ household. And there's this one night where _______ says "you know, I think G-d is preparing you for something..." Apparently she was right, because several months later, here I am preaching to you all, right? She had a big grin on her face before I even finished telling her what Rav ______ had asked me to do.

But none of that would have been possible if it was not for the love that I had for our L-RD and my willingness to obey His commandments, no matter how big or how small. When we think about Abraham, the subsequent blessing that we ALL experience was made possible because of his faith and obedience, and this pattern of blessing following obedience is something that has held true for every Believer in the one true G-d. The Torah proclaims it many, many times. And so if you are ever struggling with a particular trial or season of testing in your life, be encouraged, because not only is that confirmation that you are living in covenant with HaShem, but He says that He will always provides a way out, and the more we study His Word, the more we will be familiar with what that way out is. James said that we are to be joyful in these situations, because it is these situations that, no matter how difficult, will always end up in a closer, stronger relationship with HaShem so long as we are open to listening to His voice... serving Him, clinging to Him. The measure of His blessing that He so desperately wants to pour out on us is all dependent upon that openness, that willingness to love Him and obey His commandments.

Notice however that I said "willingness" to obey… it's not that we're doing these things in our own strength. These tests that we go through, this… refining fire, it all serves the purpose of humbling us so that we are able to submit to His government. You see, Yeshua is the King of Kings and the Lord of Lords; He isn't a religion, but a government! As Isaiah 9:6 says, the government shall rest upon His shoulders, and the heavenly messenger Gabriel talking to Maryam in the Good News of Luke says that His kingdom will be an everlasting Kingdom. We are told that this Kingdom starts from with in, and Jeremiah 31:33 (a passage many of us are familiar with) says that within the Renewed Covenant He shall write the Torah upon the tablet of our hearts. But He can't do that if we're not willing to submit. If we stand there all proud with hard hearts, his pencil's going to break, right? But, praise the L-RD, His lead is everlasting, and so He's going to keep on trying! But if we can listen to the L-RD and allow ourselves to be humbled, it is then that He can get in there and begin to work in our lives. So it's all about humble submission, where HE can take over and in working within our lives, help us grow. Help us to mature. I know that it's not easy though. Faith means trust, and it takes a lot of trust to do this, but we all have to come to that place where we realize that we can't do it alone. Paul though says to the Philippians that we can do all things through the Mashiyach who gives us strength, right? So as I said at the very beginning, it's all about Him working through us. Let's go to Ezekiel 36 for a moment, because I just really want to emphasize this point here,

Then I will sprinkle clean water on you, and you will be clean; I will cleanse you from all your filthiness and from all your idols (that's the cleansing work done through Messiah, so remember that we always need to come and plead His blood over us first; and then in verse 26 it continues on to say that). Moreover, I will give you a new heart and put a new spirit within you; and I will remove the heart of stone from your flesh and give you a heart of flesh. I will put My Spirit within you and cause you to walk in My statutes, and you will be careful to observe My ordinances. (Ezekiel 36:25-27 with personal commentary added)
I really want everyone to grasp what I'm trying to articulate here. The proper way for every Believer to walk, is by faith. That's what the prophet Habakkuk tells us, and that's what Abraham demonstrates so incredible well for us. And the Apostle John tells us in 1 John 5:4 that it is our faith which overcomes the trials and barriers in our life, as well as in this world. But then you may say to me "yes, I've read the Scripture and I know that, but I just keep failing anyway!" Well Halleluyah, I've got good news for you, because the Torah says

Be strong and courageous, do not be afraid or tremble, for the L-RD your G-d is the one who goes with you. He will not fail you, nor forsake you.
That's from Deuteronomy 31:6. You see, nobody knows better than HaShem how hard we struggle. And no matter how many times we fall, He will always be there, continuing to draw us back, and mould us and give us the opportunity to overcome so that we may be mature and complete, and walking in the fullness that He has called us to. And why does He do that? Because He loves us, and His loving-commitment endures forever. Amen?

Let's just ask the L-RD's blessing over the word this morning.

Dear Father, I just thank you for this blessed opportunity. Father I pray that everyone in this room would be filled with your Holy Spirit, your love that transcends all understanding. I pray that we would have a steadfast Spirit in following your ways and loving you with all of our hearts. Your word in 1 John 5:3 lays out what your love so clearly is when it says "For this is the love of G-d, that we keep His commandments; and His commandments are not burdensome." Father we all desire to keep your commandments and experience your blessing, in Spirit and in truth. But Father, we need You. We plead the blood of Messiah over our lives and seek your Holy Spirit to empower us to overcome. Help us to remain dedicated to your ways, not just during this cold winter when the feast of dedication comes our way, but let us be dedicated at all times for the sake of Your precious Name and for all those whom we love. In Yeshua's everlasting, mighty name I pray; amen!